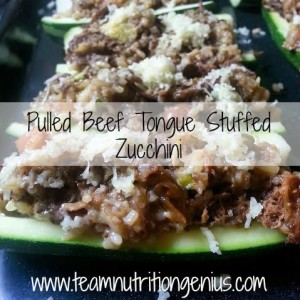 Beef tongue, round two! Remember a few months ago when Sassy made Beef Tongue Tacos for her friends? She could not stop raving about how good the beef tongue was so of course I had to try it. Lucky for me I have a group of brave friends that trust in my cooking abilities (I'm not sure why) that were willing to dive into the world of offal.
No, I didn't say awful I said offal. Offal is a word that refers to the internal organs of slaughtered animals. Stop freaking out. The US is basically the only country that runs in the other direction of these nutritional powerhouses. Everywhere else in the world likes to get down with their own version of organ meats, think- foi gras, pâté, sweetbreads, tripe, haggis, chopped liver, menudo, and intestine casing for sausage. And those are just the most common. Other parts of the world eat or utilize just about every part of the animal from nose to snout and we want you to get on board.
The benefits of consuming animal parts like this are twofold. First, you are respecting the animal by consuming the whole thing. That animal gave it's life for your health, so respect it by not wasting it. Second, many organ meats are exceptionally nutrient dense. Liver, for example, has higher amounts of vitamin A, vitamin E, thiamin, riboflavin, niacin, vitamin B6, vitamin B12, folate, pantothenic acid, choline, iron, phosphorus, zinc, copper, and selenium than an equivalent portion of kale. KALE! The nutritional value of each organ will be different based on it's function and the nutrients it stores so by eating a variety you'll allow your body to get the right amount of nutrients that it needs, not too much, not too little.
The tongue is a muscle so, as expected, it is nutritionally pretty similar to other muscle meats. Given that it has similar nutrition to meat and it tastes delicious why not try it? How do you get it, you ask? Ask your meat guy! I checked in with Rick, my meat guy at the Rochester Public Market, and he didn't have any on hand but told me he would have one saved for next week. Easy as that. I bet your meat guy would be willing to get you one or point you in the direction of where you can find one.
So here I sat with a beef tongue and an excess of zucchini from my CSA with Markwood Acres. The solution was simple- Pulled Beef Tongue Stuffed Zucchini. I seasoned the tongue according to Sassy's instructions and put it in the crockpot on high. I am completely obsessed with my crockpot. It is the easiest way to prepare food and it is wonderful walking into a delicious smelling house after a long day and having a hot meal already prepared. After 8 hours in the crockpot the tongue smelled delicious but it looked terrifying. To make it worse, there is a membrane on the tongue you have to pull off before shredding it.
It didn't gross me out but it sure was weird. I pulled the membrane off then returned the tongue to the crockpot and, using two forks, pulled it apart the same way you would pull pork. I turned the crockpot on low and let it sit in the onion and garlic juices for another 2 hours and bam, tasty tongue for all. I mean, look at these smiles. they were loving it.
Be brave like these people, try some tongue!
Pulled Beef Tongue Stuffed Zucchini
Ingredients
Beef Tongue

1 grass-fed beef tongue
1/2 tsp. ground cumin
1 tsp. salt
1/2 tsp. ground black pepper
1 large white onion, chopped
5 cloves garlic, minced

Zucchini Boats

4 medium zucchini
1/2 T olive oil or butter
1/2 tsp chili powder
1/2 tsp salt
1/2 tsp garlic
1/2 tsp pepper
1 cup shredded raw jack cheese

Rice and Beans

4 cups bone broth
2 cups white rice
1 garlic scape, chopped
2 tsp cumin
1/2 tsp chili powder
1 can organic pinto beans, drained and rinsed well
Instructions
Beef Tongue

Combine cumin, salt, and pepper and coat evenly on beef tongue, place in crockpot
Add onions and garlic to crockpot
Cook on low for 8 hours
Remove tongue from crockpot, remove membrane, and return tongue to crockpot
Shred tongue using 2 forks
Turn crockpot to low and allow to cook in juices for 1-2 hours

Zucchini

Cut zucchini in half lengthwise, may half width-wise for smaller boats if desired
Scoop out flesh from inside zucchini and place boats face up on a baking sheet
Over medium heat, saute zucchini in butter or olive oil and season with chili powder, salt, pepper, and garlic
When zucchini is soft transfer to colander in sink and allow liquid to drain
Cooked zucchini will be added to rice and bean mixture below

Rice and Beans

Bring 4 cups bone broth to a boil over high heat
Add white rice, stir
Reduce heat to simmer, cover, and allow rice to cook until broth is absorbed, about 15-18 minutes
In a large bowl, combine rice, garlic scape, cumin, chili powder, pinto beans, mix well

Zucchini Boats

Preheat oven to 400 degrees F
Combine pulled beef tongue, cooked zucchini, rice and bean mixture, and shredded cheese in a large bowl and mix well
Spoon enough mixture into the zucchini boats to make a small mound over the edge of the boat
Bake for 15 minutes
https://pearlsofnutrition.com/2015/08/pulled-beef-tongue-stuffed-zucchini/
Let's hear it!
What offal do you include in your diet?
Would you and your friends be willing to try tongue?