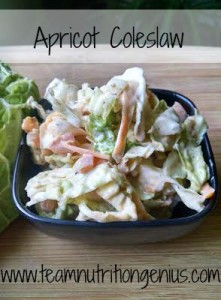 I have cabbage coming out my ears! Seriously. our CSA has been giving us multiple heads of cabbage for the last two weeks. It's awesome, but just too much for two people. My roommate and I both hate to waste food. We would much rather see our local, organic produce go to good use in another household than sit to rot in our fridge or stuff our faces full of the same food over and over again. Another good way to make sure your produce doesn't go to waste is to blanched and freeze it which would allow you to continue eating local produce past the growing season. You can blanch and freeze cabbage so if this happens to you fear not!
The other way to use up your excess cabbage is in this apricot coleslaw. For the dressing I used Primal Kitchen's Avocado Mayo but you could substitute with your own homemade version. Not sure how to make it yourself? We have a recipe in the Fall eBook. Subscribe to our mailing list for a copy!
Enjoy!
Ingredients
1/2 small head of cabbage, shredded
1/2 small onion, diced
1 cup shredded carrots
10 apricots, halved, pits removed, and diced
1/2 cup avocado mayo
2 T apple cider vinegar
1 T honey
1/2 tsp dijon mustard
1/2 tsp salt
1/2 tsp pepper
1/2 tsp dill
Instructions
Combine cabbage, onion, carrots, and apricots in a bowl and mix.
In a separate bowl, add mayo, vinegar, honey, mustard and spices and mix.
Add dressing to cabbage bowl and mix until evenly distributed.
Refrigerate overnight to allow flavors to blend.
Serve cold.
https://pearlsofnutrition.com/2015/07/apricot-coleslaw/
Do you ever have the problem of getting too much of one thing in your CSA?
How do you handle it?