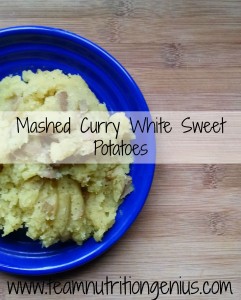 I am always preaching to people to not go grocery shopping when they are hungry or in a hurry and yesterday I failed to take my own advice. I was in a super hurry and instead of getting white potatoes I grabbed Jersey white sweet potatoes. I didn't even notice it until I got home and saw the receipt that said "potato sweet white." Uh, what? I had to Google what it is. For a full guide to the difference between sweet potatoes, yams, and the varieties of each check out this article from Marks Daily Apple.
Since I was making Jesus' Tears Curried Chicken I wanted the potatoes to pair well. I decided to keep it simple and do a simple mashed potato with some spices plus another side of broccoli. It was delish and a meal I will definitely make again. Hope you enjoy!
Mashed Curry White Sweet Potatoes
Ingredients
2 large Jersey white sweet potatoes, peeled and diced
1 T butter
2 T coconut milk or bone broth
1/2 tsp curry powder
1/2 tsp Himalayan salt
1/2 tsp ground black pepper
Instructions
Boil potatoes until soft, remove from heat and drain
Return potatoes to pot, add remaining ingredients
Mash potatoes to desired consistency (I like mine a little chuncky)
Serve warm
https://pearlsofnutrition.com/2015/08/mashed-curry-white-sweet-potatoes/
What is your favorite kind of potato?
How do you cook them?
Let me know in the comments!