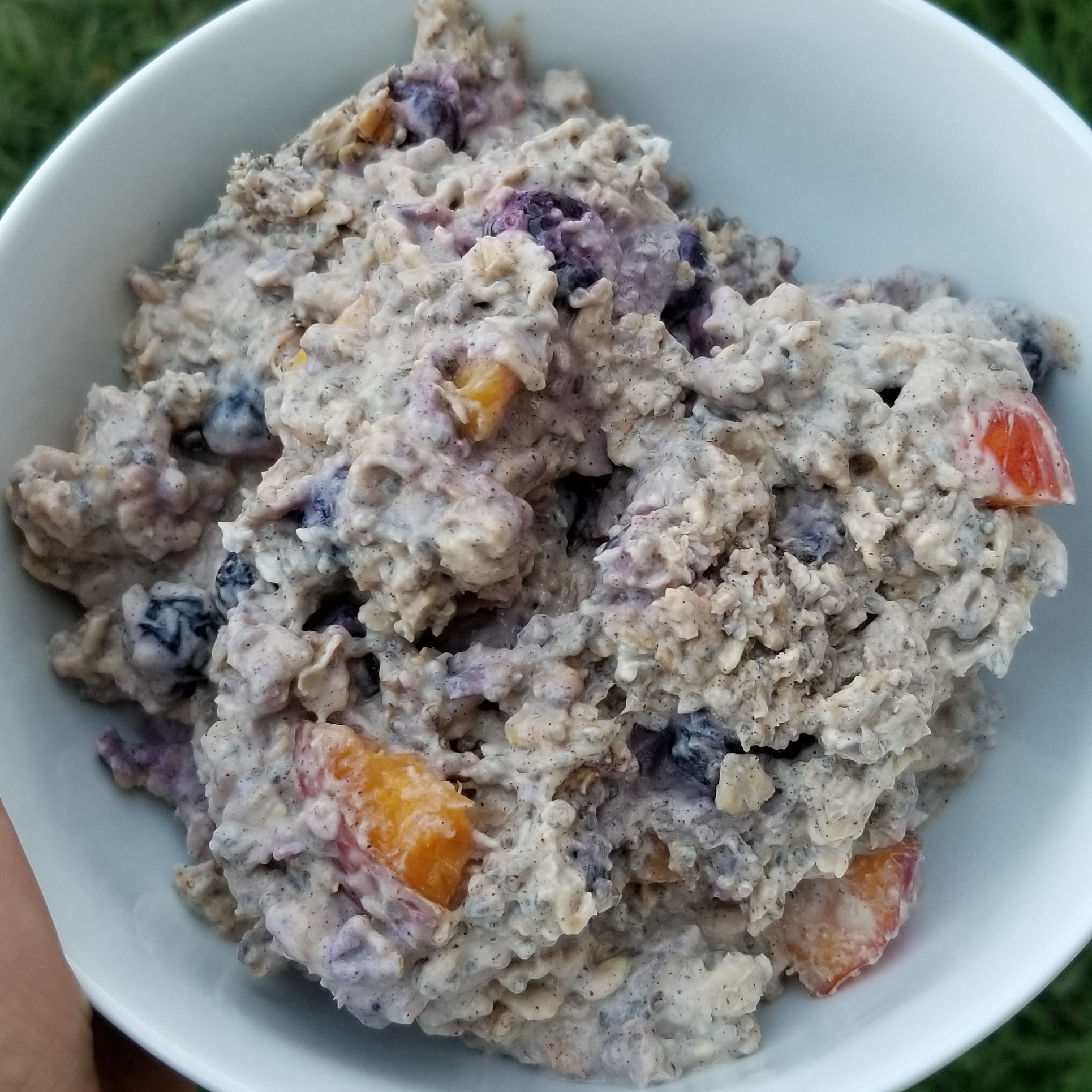 "But Marie, I don't have time to eat breakfast."
Shut your face. Chances are you hit snooze twice then checked your texts, Facebook, Instagram, and emails before you even got out of bed this morning. I know you have or can find at least 10-15 minutes. If you're in a hurry like every good American, it will take you less than that to shovel in a little breakfast. I should be clear that this is not the ideal way to be eating breakfast. You should be sitting at a table without distraction being fully mindful of your meal to make sure you're getting just what and how much your body needs. That being said, I try my best to live in the land of reality and I know a sit down breakfast just isn't realistic some mornings. This is a place where something easy to grab and go comes in handy. Enter- Blueberry Peach Overnight Oats.
The best thing about this recipe is you can make a batch that will last you most of the week. No need to take the time to prep your breakfast every morning- you just grab the jar or bowl and a spoon and head on out the door. Meal prep is every nutrition dweeb's buzz phrase these days and not because we attend secret conventions to decide the latest superfood (but I would love if we did so I could pitch my case for getting over cauliflower already). Nutrition professionals love meal prep BECAUSE IT FREAKIN' WORKS.
Okay, sorry to yell there but guys, it takes a few hours of your Sunday. Or, if you're like me and out of town every weekend a few hours of your Monday night and boom- no cooking for the rest of the week. It's a delight to come home from work, eat dinner, then kick your feet up and watch a wild round of Jeopardy! minus the hangry yelling at Alex for being such a know it all when someone answers incorrectly. Seriously, it makes your life easier and frees up your weeknights. Meal prep is a conversation for another post but this recipe is a perfect addition to your weekly meal prep when you actually start doing it mkay?!
I came up with this recipe because I've been on a pretty serious smoothie kick for breakfast lately and needed a change. I also had leftover peaches from my CSA. I'm actually lying. I had nectarines but blueberry peach sounded a lot better than blueberry nectarine which is just a mouthful. You can use either, they are both tasty. If you're looking for something a little higher in protein and/or fat you can always add extra nut butter or a scoop of protein powder. I personally don't think it needs any additional sweetener but if you wanna be like Emeril- BAM! add some real maple syrup or honey.
Okay so here's your new morning routine- wake up, stop comparing yourself to people you see on Instagram, and eat your damn breakfast.
Hasta luego, amigos.
Add milk, yogurt, peanut butter, and cinnamon to a large mixing bowl and whisk until smooth.

In a separate bowl, mix together oats, chia seeds, blueberries, and peaches.

Add wet ingredients to dry ingredients and stir until fully mixed.

Split evenly into 4 mason jars or bowls, place in refrigerator and let sit overnight.
Counts for:
1 starch, 1 dairy, 1 protein, 2 fats, and 1 fruit