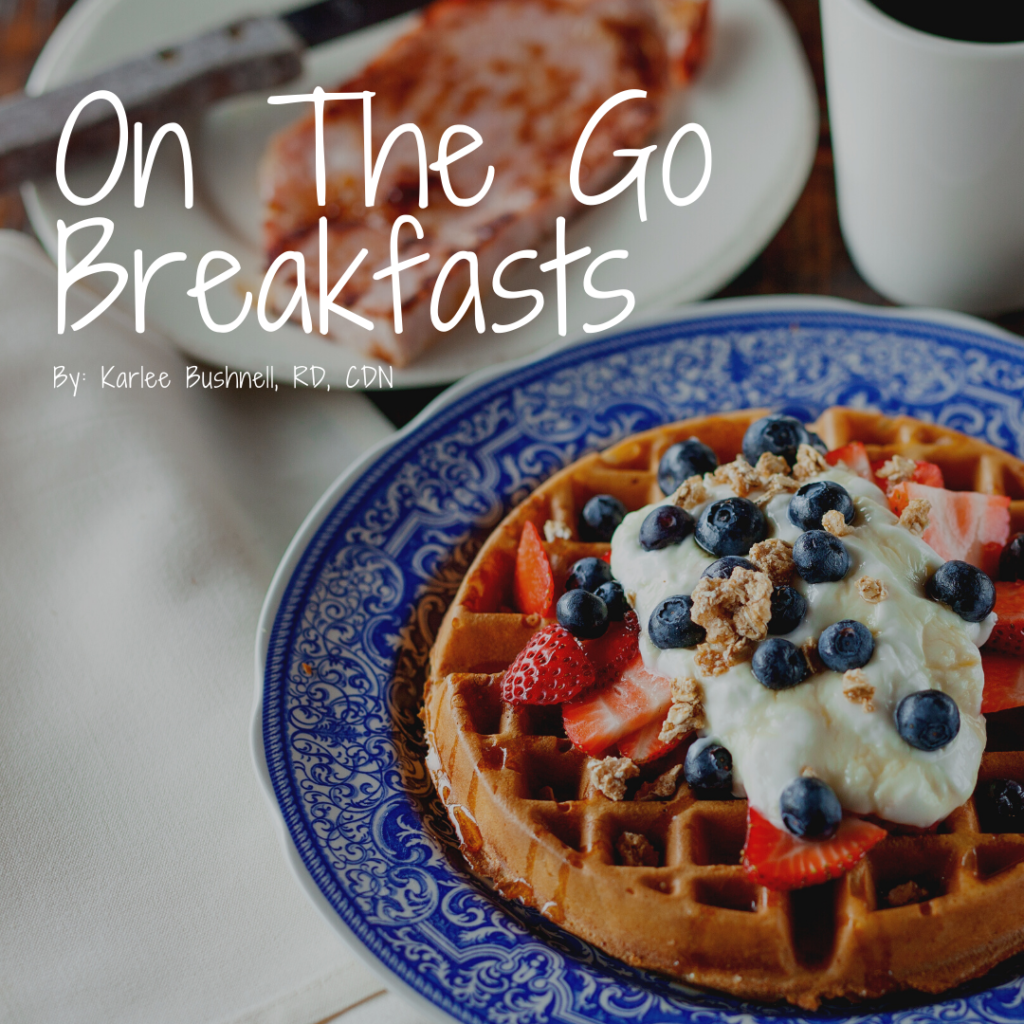 Ahh, February is almost here! Tis the season for dark and cold mornings which makes it difficult to peel yourself out of bed. For some, this may make taking the time to think about, let alone, prepare breakfast seem unimaginable. Heck you might even be waking up and driving in to your day-to-day activities in the dark! But as I am sure you know breakfast is an important meal of the day. I don't say the most important meal because really they all are, and nourishing yourself consistently throughout the day is crucial. But breakfast does come after a usually longer period of not eating (AKA sleeping, and the name literally comes from "breaking the fast"). So yes, a common issue that I hear from clients is that it is difficult to think about what to eat in the morning given most folks are on-the-go from the moment their alarms go off. Today's post is an attempt to help with this – whether it involves making some items ahead of time or buying prepared items, whatever is going to help you quite literally "break the fast" in the AM is what is important.
Recipes/ideas you can make ahead of time:
Overnight oats. These are a bit different than regular oatmeal in the way that everything is prepared the night before – oats, other dry ingredients, fruit and milk are all mixed together and kept in the fridge until needed the next day. Most of the time it is consumed cold, but you could warm it up in a microwave (just be careful to not overdo it and cause the milk to curdle).
I prefer to eat my oatmeal warm in the morning, especially in the colder months. What I have found works for me is to mix all of my dry ingredients together the night before and then I add hot water from a coffee/tea spout available at work. If this is not an option for you, you could also add cold water the day of and as above, microwave to desired temperature.
Some common flavoring ideas for oatmeal: banana and nut butter; pumpkin puree with pumpkin pie spice; apple, nut butter, and cinnamon. You can also add Greek yogurt to oatmeal to increase the protein and make it creamier.
Yogurt with fruit, nuts/granola, nut butter (make a parfait of sorts and take with you)
Toast/English muffin/bagel (or any bread product really!), with nut butter, cream cheese, yogurt, hummus, ricotta topping (add fruit, nuts, diced tomatoes, lettuce, avocado, etc. The options are seriously endless)

Eating ricotta toast with berries, a drizzle of honey, and nuts makes you feel really fancy on a weekday, I promise!

Make eggs ahead of time with the addition of vegetables, cheese, and/or meat as you prefer (muffin tin eggs, fried eggs, quiche/frittata, breakfast bake)

Take with fruit, toast, inside of tortilla, etc. and microwave as needed at work

Egg bowls with rice and veggies. This may sound strange, but in many countries rice is a staple at all meals. Adding in the eggs and veggies helps to round out the balance to hit your nutrient needs. I like to sprinkle a little cheese and hot sauce on top. These are great to make ahead and bring with you to work.
English muffin egg and cheese breakfast sandwiches- eggs can be made ahead of time and reheated or quickly in the microwave. Can add vegetables like tomatoes and spinach or extra protein like sausage or ham and pair with fruit.
Breakfast burritos are easy to make ahead of time and freeze. Eggs, beans, rice, cheese, chorizo, peppers, onions, salsa, cilantro, or any combination of ingredients you prefer.
Smoothies can be quick to throw together or made at night and kept in the fridge to be shaken up in the morning. The trick to smoothies is adding enough stuff to your fruits and vegetables to make it filling- yogurt, whole milk, collagen or protein powder, nut butters, chia or flax seeds, or top with granola
Homemade muffins like blueberry or cranberry orange. Pair with a protein like hard boiled eggs or yogurt.
Cottage cheese with fruit, pair with toast or english muffin with butter.
Additionally, eating in the morning does not mean it has to be "breakfast food". If you have leftovers that you won't be eating at another meal or they sound good first thing in the morning, this is totally fine. I have a family member who has never liked breakfast food and would be just as happy eating dinner leftovers the next morning; this is what works and tastes good to her. If you feel similarly, go for it!
What about prepared foods? While eating whole foods cooked at home may provide better vitamin and mineral content, the reality is that any nutrition is better than no nutrition. Let me repeat: prepared foods are OKAY. If cooking ahead of time or from a recipe isn't your jam or something that you have time for every day or even every few days, that is fine. All of these examples are found at Wegman's grocery stores (because if you're from Rochester, you know), but you may have different options available to you. Clicking on the linked brands below will bring you to the website.
Grocery store items:
If you've tried pre-made or frozen breakfast items in the past and didn't think you liked them, I encourage you to try a different brand of style of food items. Don't write off the entire category of prepared breakfast food due to one bad experience. It may be a trial and error sort of thing to find what works for you. Let's make on the go, on the GOOD again. Yeah that was corny, let's end it here while we're ahead.
Questions? Ideas? Leave them in the comment box below!