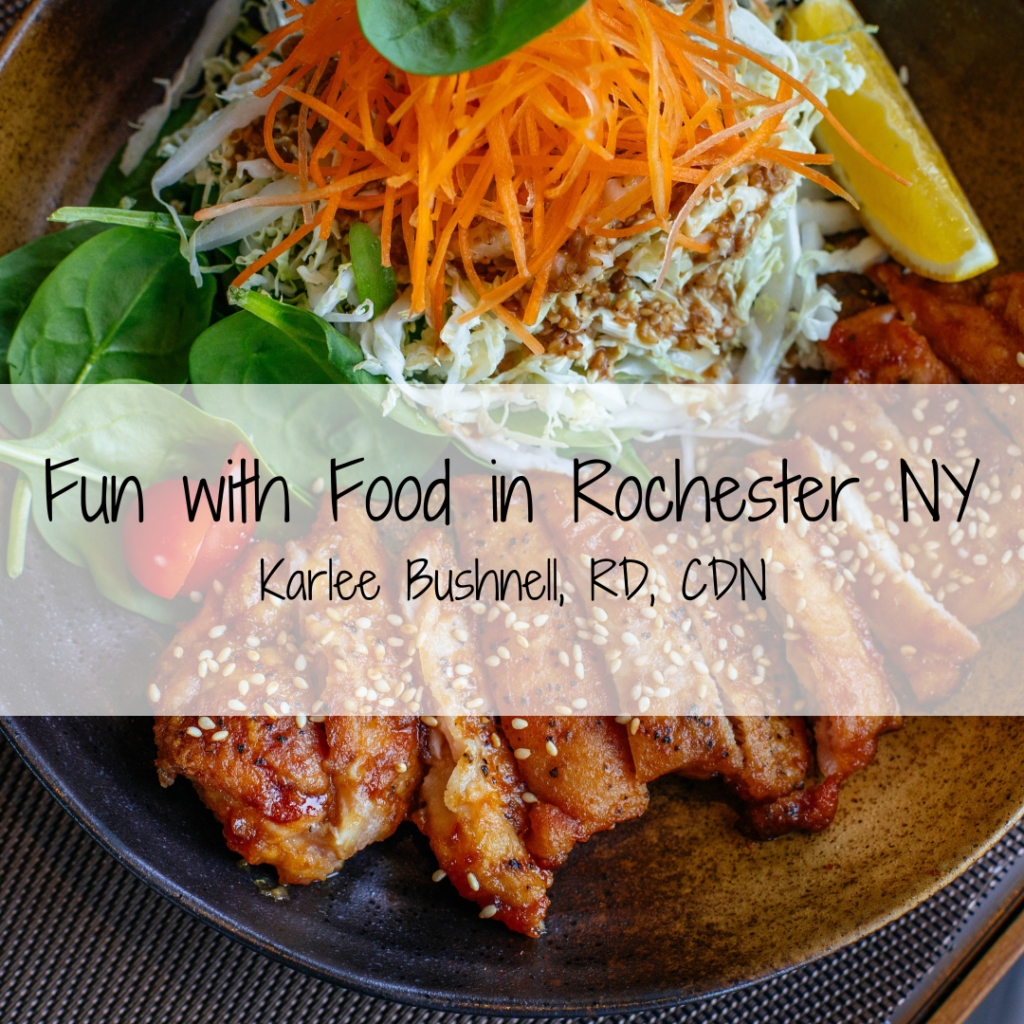 Clients often ask "what is normal eating?", which is a very nuanced and individualized answer. However, we love the below explanation which comes from the Ellyn Satter Institute: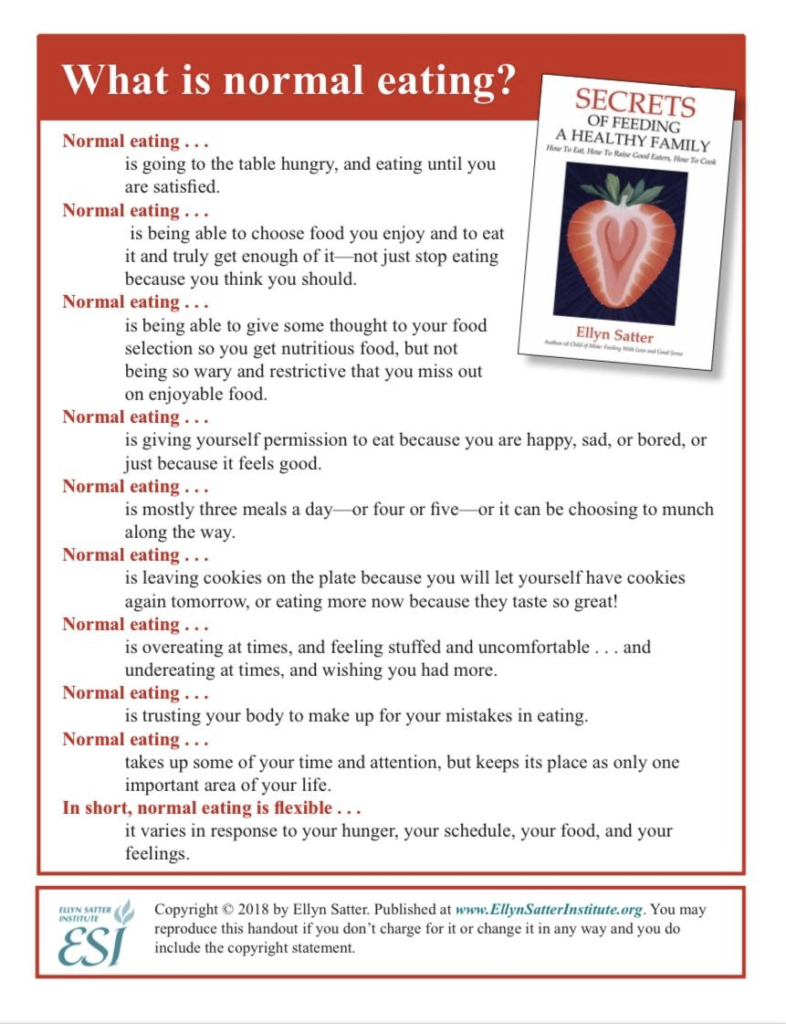 While it may not be explicitly listed in the above list, the idea of "eating until you are satisfied" implies pleasure. As per Evelyn Tribole, co-writer of Intuitive Eating (an eating and self-care focused framework based on 10 principles), the sixth principle, "Discover the Satisfaction Factor" is a pleasure-based concept. Tribole also notes that "the Japanese have the wisdom to promote pleasure as one of their goals of healthy living. In our fury to be thin and healthy, we often overlook one of the most basic gifts of existence – the pleasure and satisfaction that can be found in the eating experience". All to say that finding pleasure in food and eating experiences is a very normal part of having a healthy relationship to food, and can help to contribute to feelings of fullness and satiety.
The idea of experiencing pleasure from food can be quite scary if you are someone that has struggled with disordered eating or has had a negative relationship with food. Please remember that not everyone may be ready for this step. However, even if it feels scary, we encourage anyone who struggles with their relationship with food to work on finding the pleasure in eating. This can help those that struggle with under eating to nourish themselves better, and those that struggle with overeating to derive more satisfaction in what they are eating and therefore reduce episodes of binging. For those struggling with guilt and anxiety around eating- when you find you are able to connect eating to pleasure, and understand that pleasure is an important part of the enjoyment of life, and can help to mitigate these negative feelings.
If you feel like you're in a place in your own relationship to food that you'd like to seek out more pleasure if food, here are some ways to have fun with food in the Rochester, NY area. Whether you're living in the area or just visiting, I hope this list serves as a helpful guide.
Take a Food Tour
There are companies in Rochester and surrounding areas that offer food tours of popular local spots. These tours often include an opportunity to learn about some of the local history and fun facts about the locations you're visiting, as well as try some different fare. There's typically a component of walking too so be mindful of the level of physical activity and come prepared with comfortable shoes, clothing, SPF, hydration, etc. Companies to consider:
2. Sign Up For a Food Related Class
Depending on what you're interested in, there are seemingly endless opportunities for classes related to food and beverage in the area. Want to learn how to assemble a cheese board? Make mocktails? Roll sushi? Decorate cakes or cookies? There's likely a course out there for you! Companies to consider:
3. Attend a Food and Beverage Pairing
If you choose to imbibe, attending a food and alcoholic beverage pairing may be a fun idea. Many local wineries and breweries host these kinds of events, as well as restaurants. You can check out the particular websites of these establishments or use a website like Eventbrite or Facebook events to see what's happening near you.
4. Find a Festival
There are so many festivals in Rochester and nearby areas especially in the summer and fall months. Some well-known options include the Naples Grape Festival, Sterling Renaissance Festival, Webster Garlic Festival, Rochester Greek or Puerto Rican Festivals or even something like the Rochester Jazz Fest and enjoy some food truck fare.
5. Visit a Public Market
There are plenty of public markets throughout the Rochester area. Probably the most popular one is the City of Rochester Public Market, but there are options that can be found in other suburbs such as Fairport, Brighton, and Henrietta. Check out local listings to see the location and date/time of when there might be a farmer's market near you. Another fun idea is attending the Food Truck Rodeo at the City of Rochester Public Market, which is held on the last Wednesday of each month during April through September. Some of my food truck favorites include a falafel pita or poutine!
6. Join a CSA and/or Pick Fresh Fruit
Community Supported Agriculture or a CSA, is a way to support local farmers by purchasing directly from them. You purchase a "share" and become a farm "member". The farm then delivers/you pick up a box of seasonal items at set intervals throughout the season. There are typically options that can support the needs of your household with the quantity provided, but if joining a CSA feels like too much of a commitment, you can also support local farmers by going fruit picking at a local farm. From around July through October you can pick fresh items such as strawberries, raspberries, blueberries, stone fruits, and apples as they become in-season.
7. Try Something New
This one you can interpret in your own way. Perhaps this means trying a new restaurant, a new ethnicity of food (either prepared on your own or from a restaurant) or going to a new area in Rochester to try something to eat you haven't experienced before. I find when traveling to different places I tend to appreciate the food more, so why not apply that same ideology to your own town and take a "day trip" right down the road?
8. Have Local Upstate New York Fare
Often when someone hears you're from New York, they instantly think of New York City. And while the food in NYC is delicious and abundant, there are some great offerings that hail from upstate NY. Here are some ideas (and I'll even share some tips for where to find my personal favorites):
Garbage plate

There are so many variations of these available in Rochester, even vegetarian! It's worth trying at least once. Dog Town is a yummy spot with a lot of ways that you can order it to your liking

Zwiegel's hot dogs (particularly a "white hot" variety)
Chicken French

One of my favorites! Basically any Italian restaurant in the area will likely have this on their menu. Pane Vino is one of my favorites.

Beef on weck sandwich
Chicken riggies

I like to make a homemade version of this (you can purchase chicken riggie sauces at many Rochester grocers or find a recipe online. If not making it at home, I like the version at Delmonico's).

Salt potatoes
Spiedies
Sponge candy
Buffalo wings
Grape pie (refer back to #4 and snag some at the Naples Grape Fest!)
Tomato pie

Vern's has a delicious tomato pie!

Utica greens

Nocino or again Delmonico's make some of my favorite Utica greens.
So there's that! 8 ways to have fun with food in the Rochester, New York area. I hope this list serves you well to find some novelty and enjoyment with food. Do not feel as though you need to implement everything – start small and see what feels most doable, as well as valuable to you.
Additionally, I want to acknowledge the privilege of being able to have discretionary income for going out to eat, trying new foods, and participating in many of the above activities. If you have further questions about finding pleasure and satisfaction in food, food accessibility or ways to include these aspects while working on your own relationship to food, I encourage you to speak with your Registered Dietitian (RD). If you think adding a RD to your treatment team would be helpful, I encourage you to reach out to us at Pearls of Nutrition. Thanks for reading!

Resources:
https://www.ellynsatterinstitute.org/wp-content/uploads/2017/11/What-is-normal-eating-Secure.pdf
https://www.newyorkupstate.com/entertainment/erry-2018/05/c4efa349764844/33_unique_upstate_ny_foods_and.html